Fai Wine – Wine Award
Fai Wine – Wine Award
Fair Wine Award
---
"The international competition for sustainable and environmentally friendly wines."
unique . fair . international .
Under the motto "Fair has a future", the international wine competition "Fair Wine Award" presents the challenges facing global viticulture in terms of climate change and adaptation to changing natural and social challenges.
These include wines from the traditional, classic grape varieties as well as wines from grape varieties that come from new grape varieties, are considered robust and vital, have special characteristics in terms of resistance to vine diseases, come from sustainable or organic production or are to be regarded as historical grape varieties of a wine-growing region.
What they all have in common is that the grape varieties are adapted in a special way to the respective market and environmental conditions and enable a natural, environmentally friendly, sustainable and culturally valuable wine production.
With the "Fair Wine Award", the organizers promote qualitative competition among producers and at the same time o ers an attractive opportunity to increase the recognition of wines and improve marketing.
A jury of experienced and professionally recognized wine experts and scientists guarantees an independent and technically accurate evaluation of the submitted wines. The awards for the individual wines thus receive a high reputation and recognition.
You can expect the following benefits
Your wines will be qualitatively evaluated by an independent and technically skilled jury of experienced wine experts and scientists under the direction of Dr. Hermann Pilz. This provides you with an objective assessment.
Winning wines will be awarded at the same time as the ANUGA trade fair (07-11 October) on the "Organic on Stage" stage on Tuesday, 10 October 2023.
All winning wines will be prominently featured on Instagram & Co (including free photos).
Participation includes free marketing & public relations and is a gateway into the German wine trade!
Dates
Registration starts: 1 June 2023
Registration deadline: 13 September 2023
Submission deadline: 15 September 2023
Tasting: 18 to 20 September 2023
Fee per wine: 125,00 €
For five wines we offer a discount of 5%
From 10 wines we grant a discount of 10%
Permitted wine categories:
Resistant grape varieties o cially accepted after 1992 with resistance characteristics.
Grape varieties from new varieties after 1900, also with PIWI characteristics.
Wines from sustainable or ogranic production, all grape varieties are permitted.
Historical grape varieties that were known and described as grape varieties before 1900, under 1,000 hectares of vineyards.
Registration
correctly . now . immediately .
Jury
---
"Our wine jurors are experienced tasters with years of jury experience and are committed to a fair competition."
experienced . professional . conscientious .
The tasting and evaluation of the submitted wines will be carried out by a professional, experienced jury of recognized wine experts and trained wine experts.
The samples are tasted covertly and evaluated sensorially according to the internationally recognized 100-point scheme.
The jury members receive the necessary information for the tasting of each individual wine, such as vintage and grape variety, which, however, does not allow identification of the individual wine.
In addition, the tasters receive further information on the production and marketing of the wine, which is carried out according to the entrant and/or the proposal of the jury board. This information also does not allow identification of the individual wine, but gives the taster information on how and for what marketing purpose a wine was produced.
The tasting for the 1st FairWineAward took place on 25.02.2023 in Landau i.d. Pfalz, in the "Alter Kaufhaus".
The jurors were:
Dr. Herman Pilz, Verkostungsleitung, Landau
Ana Margareto, Stephan Pellegrini, Landau
Dr. Florian Schwander, Julius-Kühn-Institut, Geilweilerhof
Jürgen Mathäß, Journalist, Landau
Kristine Bäder, Weingut Wohlgemuth-Schnürr, Gundersheim
Inge Mainzer, mastering wine, Ernst (Mosel)
Renate Liebl, Lieber Liebls, A-Hirschegg (Kleinwalsertal)
Jan Kiegeland, Divinum, Berlin
Monika Krupski, all around wine, Hamburg
Ralf Kaiser, Weinkaiser, Bonn
Claudia Stern, Wine&Glory, Köln
Anita Dietrich, Messe Karlsruhe, Neustadt
Benedikt Schnürr, Weingut Wohlgemuth-Schnürr, Gundersheim
Oliver Bönsch, Bönsch-Weine, Ansbach
Janis Krey, Wine&Glory, Köln
Martin Dietrich, Pernod Ricard, Neustadt
Dr. Jonas Müller, Hochschule für Wirtschaft und Gesellschaft, Ludwigshafen
Tristan Schnürr, Weingut Wohlgemuth-Schnürr, Gundersheim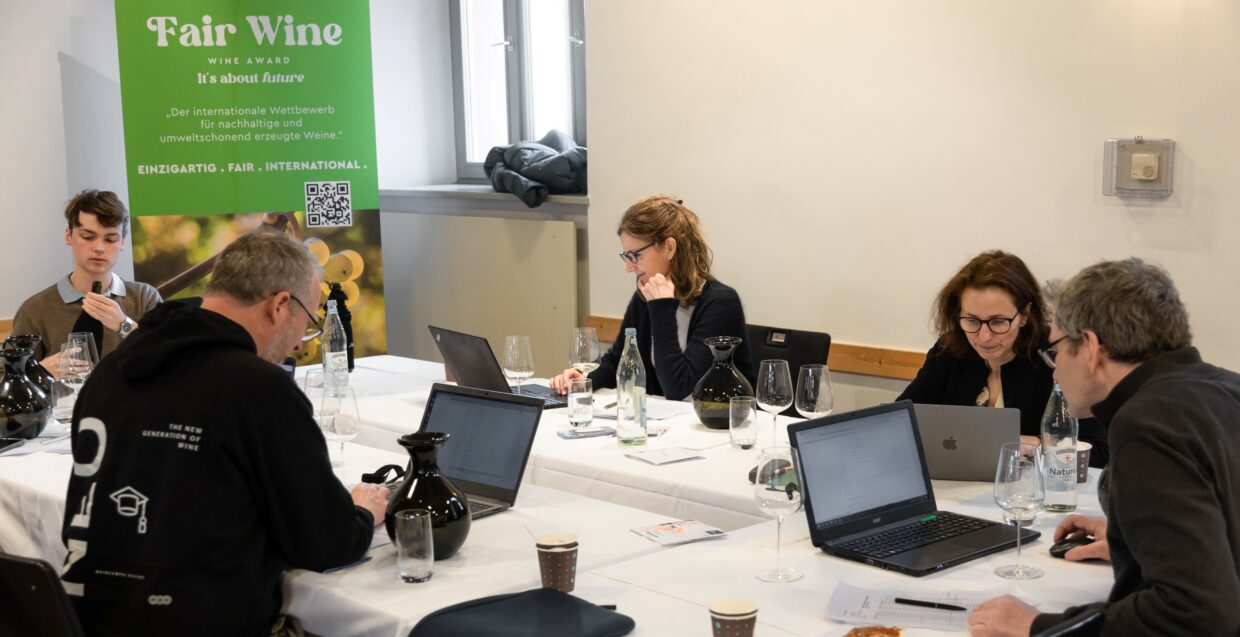 Results:
comprehensible . transparent . current .
In order to ensure high-quality and recognized competition, the percentage of award-winning products will be limited to a maximum of 40 percent of the wines submitted to the competition. The following award levels will be awarded to the award-winning wines:
Fair Wine Award 5 stars
Fair Wine Award 4 stars
Fair Wine Award 3 stars
Quality grading / description
Points on
the scale of 100
Star count
faulty, insufficient
50-65 points
weak, with deficiencies
66-71 points
sufficient
72-75 points
recommendable
76-80 points
3 stars
good
81-84 points
3,5 stars
very good
85-89 points
4 stars
excellent
90-94 points
4,5 stars
absolute top, world class
95-100 points
5 stars
Special Awards
In addition to the awards and medals awarded, the jury awards a prize for:
The best wine, sparkling wine of the category
The best producer, with the most and highest rated wines
Other special categories